Mbështesni GameON Albania duke përdorur kodin support-a-creator: GAMEONALBANIA
Tashmë që kampionati i Worlds është afër, Riot Games ka vendosur që të sjellë një update të ri për lojën e saj League of Legends. Por cfarë ka në plan Riot Games të sjellë me Patch 12.18 në LoL?
Patch 12.18 sjell goxha ndryshime të reja dhe gjithashtu rework të disa prej champions që loja ka momentalisht. Disa prej gjërave kryesore që duhet të dini është se Maokai do të marrë një rework të abilities të tij duke i dhënë atij një shans të rris prezencën e tij në League of Legends. Gjithashtu Udyr do të marrë disa ndryshime të vogla pas rework të tij të fundit.
Gjithashtu jungle dhe disa prej ADC do të marrin disa nerfs dhe buffs. Lee Sin dhe Ashe do të marrin buffs kurse për sa i përket Hecarim, Kayn, Nocturne, Kalista, Miss Fortune dhe Kai'Sa do të marrin disa nerfs ku këtu mund të përmendim Hecarim i cili do të marr nerfs të mëdha në Q dhe W e tij.
Bashkë me këto ndryshime, Patch 12.18 do të sjellë disa skins të reja si seria e Fright Night, Ashen Knight Sylas për ata që duan ta shpenzojnë Mythic Essence dhe një skin për Azir me rastin e League of Legends Worlds 2022.
Më poshtë do të gjeni ndryshimet e plota që do të vijnë me Patch 12.18.
League of Legends Patch 12.18
Ashe
Q: Ranger's Focus
Attack speed: 20/25/30/35/40% ⇒ 25/32.5/40/47.5/55%
Hecarim
Q: Rampage
Bonus AD ratio: 95% ⇒ 90%
Ramp damage: +6% bAD ⇒ +5% bAD
W: Spirit of Dread
Healing: 30% (+2.5% bAD) ⇒ 25% (+2% bAD)
Kalista
Base stats
Kayn
Q: Reaping Slash
Darkin Slayer maximum HP damage ratio: 5% ⇒ 3.5%
Lulu
W: Whimsey
Movement speed: 30% ⇒ 25%
Polymorph duration: 1.25/1.5/1.75/2/2.25 seconds ⇒ 1.2/1.4/1.6/1.8/2 seconds
Cooldown: 17/16/15/14/13 seconds ⇒ 17/16.5/16/15.5/15 seconds
Lee Sin
Base stats
W: Safeguard / Iron Will
Omnivamp: 5/9.5/14/18.5/23% ⇒ 5/10.5/16/21.5/26%
Maokai
Passive: Sap Magic
Healing: 4.8-14% ⇒ 4.5-12%
Q: Bramble Smash
Bonus monster damage: 40/60/80/100/120 ⇒ 80/100/120/140/160
E: Sapling Toss
AP ratio: 42.5% ⇒ 40%
Empowered AP ratio: 85% ⇒ 80%
Miss Fortune
Base stats
Attack damage growth: 2.7 ⇒ 2.4
Health growth: 107 ⇒ 103
Nasus
W: Wither
Attack speed slow: 50% of move speed slow ⇒ 75% of move speed slow
R: Fury of the Sands
Cooldown: 120 seconds ⇒ 110/100/90 seconds
Nocturne
Base stats
Attack damage growth: 3.1 ⇒ 2.6
Thresh
Base stats
E: Flay
Damage: 65/95/125/155/185 ⇒ 75/110/145/180/215
Udyr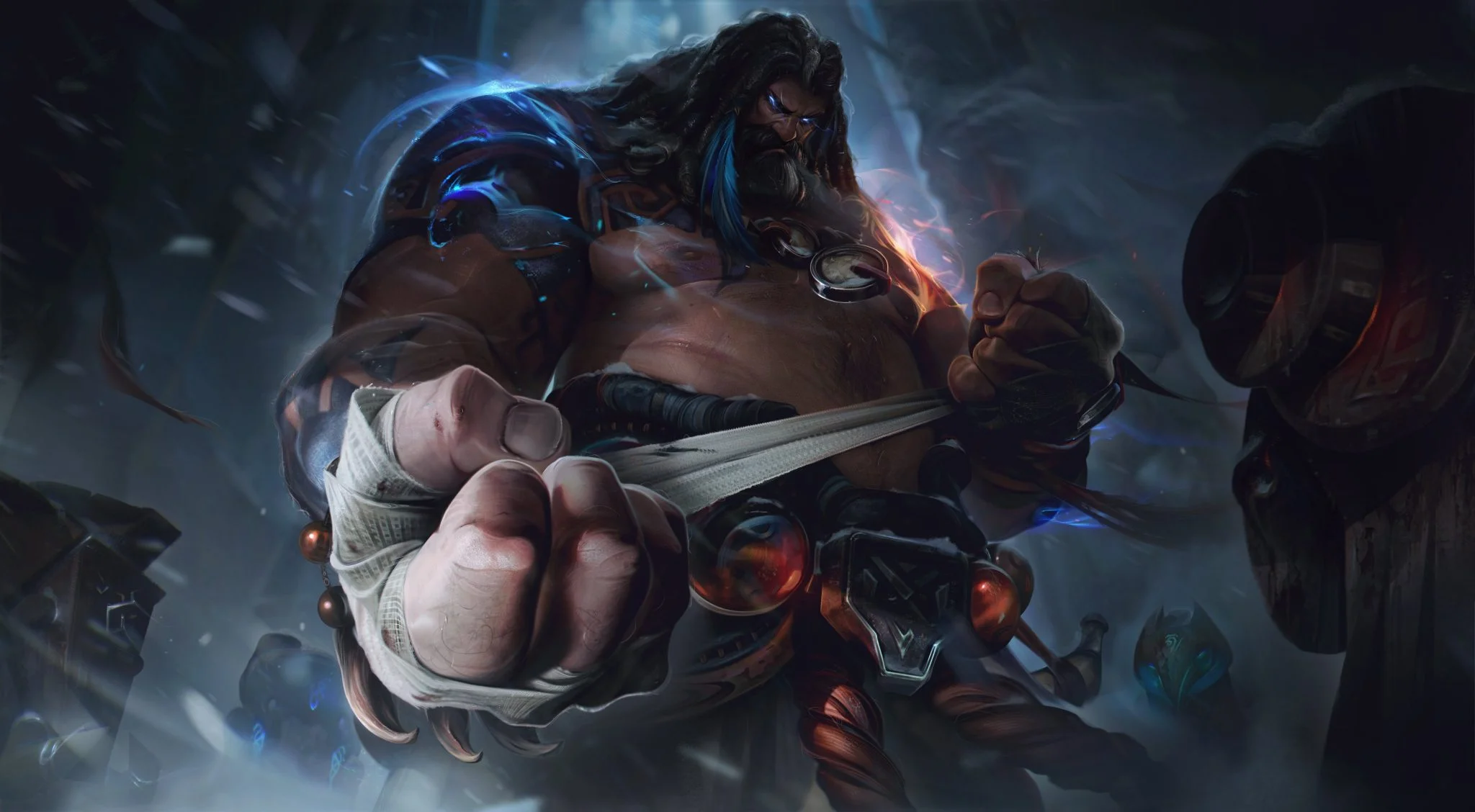 Base stats
Health growth: 106 ⇒ 98
Armor growth: 5.2 ⇒ 4.7
Q: Wilding Claw
Mana cost: 45-28 ⇒ 20
First two hits now gain 50 attack range
Awakened version deals an additional 2-5% (+0.03% bAD) max health physical damage on the first two attacks
AP ratio on each lightning strike: 0.006% ⇒ 0.008%
W: Iron Mantle
Percent health heal: 1.2/1.26/1.32/1.38/1.44/1.5% ⇒ 1.2%
Percent health shield: 2/2.4/2.8/3.2/3.6/4% ⇒ 2/2.3/2.6/2.9/3.2/3.5%
Life steal: 15% ⇒ 15/16/17/18/19/20%
R: Wingborne Storm
Magic damage: 20/38/56/74/92/110 (+40% AP) ⇒ 20/36/52/68/84/100 (+35% AP)
Damage to minions: 50/60/70/80% at levels 1/6/11/16 ⇒ 40/55/70/85%